Apple just released the Apple Watch 9, the latest addition to the company's ultra-popular smartwatch lineup. The release of the Apple Watch 9, with a brighter screen and new chip, has retailers dropping the price on older Apple Watch models. Recent models like the Apple Watch 8 are still able to receive software updates and have tons of advanced features like heart monitoring, crash detection and more. So even if you don't get the latest model, you're still getting an excellent smartwatch . Plus, you can save quite a bit of money with these hot Apple Watch 8 clearance deals.
if you're in the market for a new Apple Watch and aren't concerned about having the newest model possible, take advantage of Amazon's latest price drop on the Apple Watch 8. It's currently 22% off at Amazon and at Walmart following today's Apple Watch 9 release.
Best clearance deals on the Apple Watch 8

Not interested in splurging on the newly announced Apple Watch 9? Then consider the on-sale Apple Watch 8.
Apple Watch Series 8: $310 and up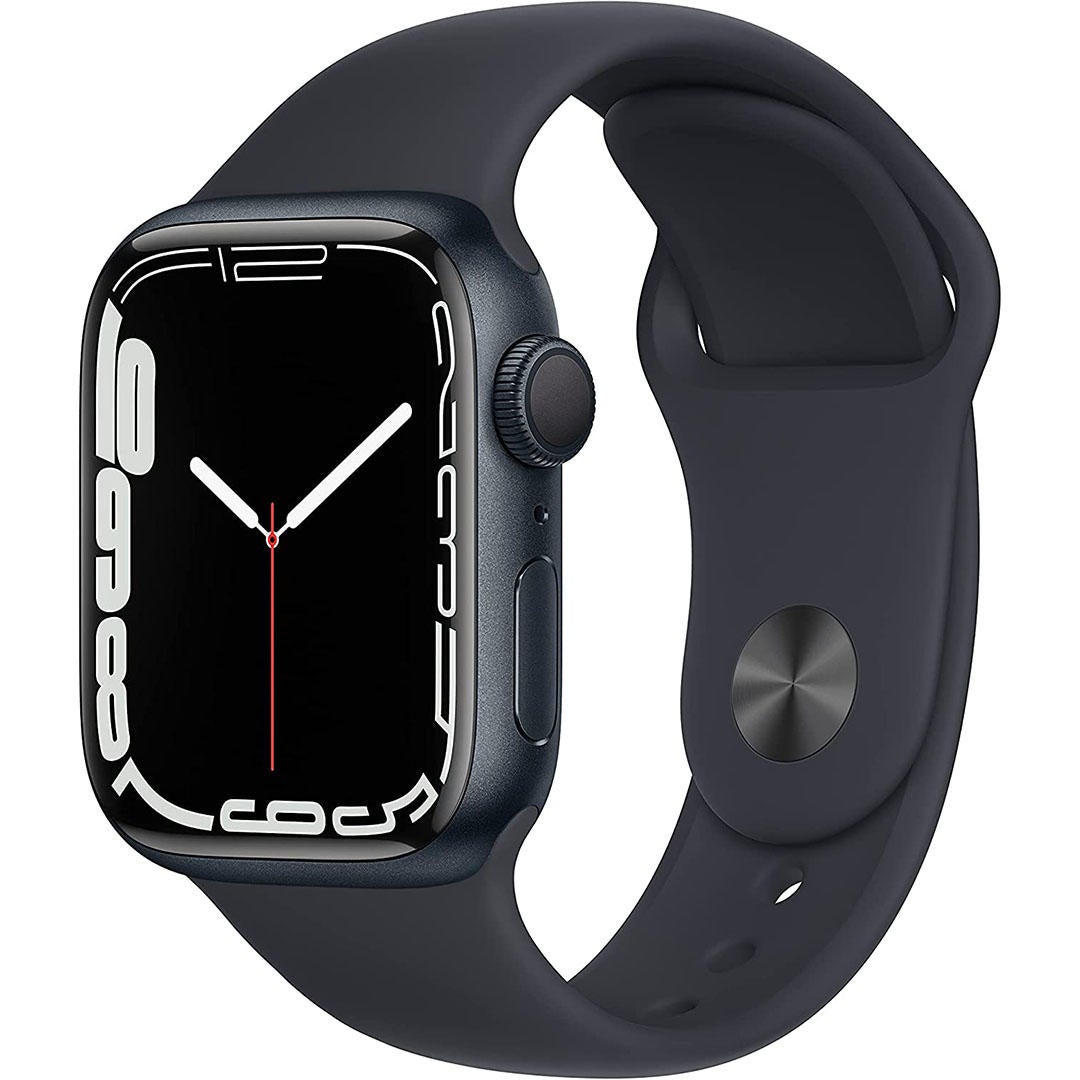 The Apple Watch Series 8 is a durable smartwatch that is swim-proof, dust-proof and crack-resistant. For regular smartwatch users, it packs just about every feature you could ask for into a compact, comfortable-to-wear package.
The Apple Watch 8 has a number of health-tracking features, including an optical heart sensor, electrical heart sensor for ECG, blood oxygen sensor and a new body temperature sensor. It also comes with a new crash detection feature, which detects where the wearer is in a severe car crash and alerts emergency services.
You can also tap into yoga, meditation and other workout programs via Apple Fitness+. (Apple Fitness+ is a subscription service. It costs $9.99 a month; Apple Watch buyers get the first month free.)
The Apple Watch Series 8 is the obvious choice for anyone who doesn't need any of the Apple Watch Ultra's ridiculously long feature list. It's just right, and a great upgrade from the previous line's offerings. It's also more affordable and frequently goes on sale.
Right now, both Walmart and Amazon have marked down the 41mm GPS-only Apple Watch 8 to $310 (regularly $399). This is one of the lowest prices we've ever seen. Pricing varies for additional models based on size and cellular options, but the Apple Watch 8 is discounted across all models.
Why we like the Apple Watch 8:
Heart rate readings and ECG records are stored in the Apple Health app for easy access.
It effortlessly syncs with iPhones and other Apple products to share health data, messages and more.
It comes with a built-in blood oxygen sensor and application.
---
What's new in the Apple Watch Series 9
Still interested in the newer model? Here's what you need to know. The new Apple Watch Series 9 offers the versatility and functionality most people want from their smartwatch. It can be ordered right now for immediate shipment. Once again, there are two case size options -– 41mm and 45mm –- and multiple casing color options including starlight, midnight, silver and (Product)RED. You can also choose between several different case material options (all of which are waterproof). The aluminum option, for example, also now comes in pink. All run the WatchOS 10 operating system which comes preinstalled on the watch, along with a collection of apps.
One of the biggest improvements to Apple Watch Series 9 is the introduction of the Apple S9 SiP chip. It improves the speed, battery life and functionality of the watch. For example, it now supports a double-tap gesture that makes it easier to control the watch with just one hand. The new chip also improves how the watch gathers and analyzes data from the accelerometer, gyroscope and optical heart sensor.
New features added to Apple Watch Series 9
It runs using Apple's new S9 chip and a 4-core Neural Engine.
You get 29% more accuracy using the watch's dictation feature and Siri.
All of the new Apple Watches support additional gestures for controlling the watch. For example, tap your thumb and forefinger together to answer or end calls.
The Series 9 watch now offers an up to an 18 hour battery life.
Enjoy an always-on Retina display that's twice as bright as the Apple Watch 8 (up to 2,000 nits).
Some Siri commands and requests are now handled on-device and don't require an Internet connection.
The new Smart Stack feature makes accessing information faster and easier on the watch's display.
New integrated watch faces include Snoopy, Palette and Solar Analog. There's also a new Nike watch face.
The Live Activity feature now tracks more activities, including cycling.
The Mindfulness app offers new features, such as state of mind logging.
The watch can now monitor how much exposure you have each day to daylight using its ambient light sensor.
A three-month subscription to Apple Fitness+ is included.
The smaller 41mm case size retails for $399. The larger 45mm case size sells for $429.
---
Is an Apple Watch worth it?
If you're someone who wears a smartwatch and is considering a upgrade, then an Apple Watch is worth it. The smart wearable can tell time, answer texts and calls, play music and it's outfitted with all the latest features and functions, including health-tracking. While the Apple Watch does not track blood pressure, it does feature as an optical heart sensor, an electrical heart sensor for ECG, blood oxygen sensor and a new body temperature sensor.
What is the latest Apple Watch model?
Apple just released the Apple Watch 9 and Apple Watch Ultra 2, making them the newest and latest models in the Apple Watch lineup, replacing the Apple Watch 8 and the Apple Watch Ultra. If you wanted to see the prior Apple Watch generations in order, they start with the Apple Watch (1st generation) (2015), the Apple Watch Series 1 and Series 2 (2016), the Apple Watch Series 3 (2017), the Apple Watch Series 4 (2018), the Apple Watch Series 5 (2019), the Apple Watch Series 6 and SE (2020), the Apple Watch Series 7 and finally the Apple Watch 8 and the Apple Watch Ultra (2022).
How to compare Apple Watch models
You might be wondering, what is the difference between an Apple Watch cellular vs. GPS? Well if you don't have your Apple iPhone on you, the Apple Watch cellular can still connect to the internet and show you all your favorite content right on your wrist. Plus it can track your location and give you directions no matter where you are. The Apple Watch GPS can only give you directions, but it's not connected to the internet so it can't do things like send you emails or stream music.
Should you wait for the Apple Watch Series? Well if you want a good deal on Apple Watch, there is no better time to buy one than today. Amazon is full of major deals on Apple Watches.
---
Related content from CBS Essentials